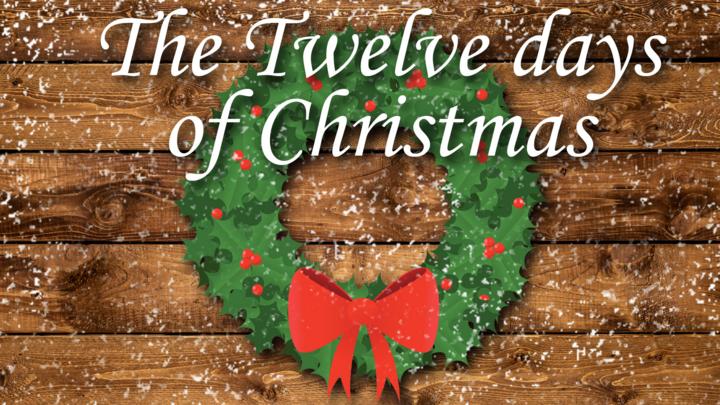 The Christmas season is fully upon us, which means I'm streaming my Pandora Christmas stations during all waking hours. My Christmas music streaming is done much to the joy of my husband and children, who especially love that I treat the Christmas music station as my own personal sing-along karaoke.
One of the more amusing Christmas songs that always pops up on my playlist is "The Twelve Days of Christmas". Everyone knows the song: "On the first day of Christmas my true love gave to me, a partridge in a pear tree." As the song progresses we learn about all of the glorious gifts bestowed upon the recipient: Two turtle doves, three french hens, four calling birds, five golden rings, six geese a-laying, seven swans a swimming (So many birds!!)…and all the way up to twelve drummers drumming.
Now, I don't know about you, but if my true love gave me a boatload of birds to take care of for Christmas, I'd chalk that right up there with receiving a toilet scrub brush and some rubber gloves. No thank you, sir. No, if my true love gave to me what I really wanted, it would look something like this:
On the first day of Christmas, my true love gave to me one whole day off to do whatever I wanted.
I don't even know where I would start, but it would for sure involve a lot of not-cleaning and not-responding to the needs/wants/whims of , well, anyone not named Me. We could just stop right here with this one and be set for life, but this is the 12 days of Christmas, so we'll keep going.
On the second day of Christmas, my true love gave to me two solid days of your time checking off items from your "Honey Do" list (that I so kindly wrote out for you).
Let's turn that "Honey Do" list into a "Honey Done" list. I know that a lot of the things on that list don't bother you because you're away in an office for 10 hours a day…but my office happens to be our house, and they drive me bonkers! That little patch of the wall that still needs to be painted, the rattling pipe, the drawers that still need pulls (that we already bought) installed. Please and thank you.
On the third day of Christmas, my true love gave to me three (proper) massages.
No funny business, just a good 'ol back rub. And if you're not up to the task, you're welcome to send me off to the spa.
On the fourth day of Christmas, my true love gave to me four weekends per month to sleep in.
Sleep is the one thing I dream about when I am awake. You, my friend, could make my wildest dreams come true.
On the fifth day of Christmas, my true love gave to me five opportunities to work out every week.
How amazing would it be to just go to the gym or hit the pavement any time I wanted? No need to shlep along unruly children or push a whiny toddler in the stroller. I would actually have a legitimate purpose for wearing yoga pants and running shoes every day. Yes, this would be bliss.
On the sixth day of Christmas, my true love gave to me six hours of time washing and detailing my minivan.
I'm not sure that 6 hours would be enough time to remove the slop and grime and pulverized goldfish crackers from my kid-mobile, but you have to start somewhere. I would absolutely love to sit down in that car some day and be reminded of the carpet's natural color and look through windows that are not smeared with sticky handprints.
On the seventh day of Christmas, my true love gave to me seven days off of bedtime duty every week.
Bedtime is perhaps my least favorite part of any given day. The cajoling, the whining, the arguing, the pushing of buttons when my buttons are already worn out from the day. How amazing would it be to just give my kids a hug and a kiss goodnight, then sit down with a book and a cup of tea while the nighttime chaos unfolded out of earshot? SUPER-amazing, that's how amazing it would be.
On the eighth day of Christmas, my true love gave to me eight hours of quality time with our family doing whatever I plan for us.
My true love does not (under normal circumstances) enjoy "adventuring" as I call it. Neither do two out of my three children. They're much happier staying home working on a project or playing video games with their friends. I, on the other hand, am like a caged bird that needs to spread her wings.
For one solid day I'd like to take the whole family and go to all the places, do all the things, eat at all the restaurants, and enjoy all the time together. Everyone would be happy and well-rested and cooperative and excited to see all of the wonderful things I had planned for us. They would marvel at the beautiful places in nature we would visit and they would appreciate the new culinary journeys I would take them on. At the end of the day they would thank me for opening their eyes to new experiences.
On the ninth day of Christmas, my true love gave to me nine months of carpooling service for our children.
I spend approximately 27 hours a day driving my children to and fro. If someone could just help me drive kids to school and sports and clubs and playdates I would have enough time to do, well, everything. And I'm not even asking for a whole year of driving services. Nine months, from September-May, should do just fine for now. I'm so magnanimous.
On the tenth day of Christmas, my true love gave to me ten loads of laundry completed by someone other than myself.
In a family with three young children I do laundry every. Single. Day. Of all my domestic chores, laundry is the most consistent time-suck. I would love to have help every now and then with completing full loads of laundry. And by completing, I mean sorting, washing, drying, ironing/folding, and putting away everything. Not just one step in the process as is occasionally offered, but the whole shebang.
On the eleventh day of Christmas, my true love gave to me eleven fresh, healthy dinners prepped, served, and cleaned up for our family.
Even though I've been an "adult" for quite some time now, the fact that I have to make dinner every day is still surprising to me. Growing up I rarely gave dinner a thought because it always just appeared on our dinner table at 6PM. Now that I'm in charge of the whole dinner rigamarole, however, dinner carries quite a different connotation in my mind. Dinner requires planning, time to prep, time to cook, time to clean, and will power to not lose your cool when nobody eats the meal that you've spent all day obsessing over. For a few days I'd love to just revert to my childhood and show up to dinner on the table at 6PM–is that too much to ask?
On the twelfth day of Christmas, my true love gave to me twelve months of a housecleaning service.
Can I get an amen?! Admittedly, I am a terrible housekeeper. I love clean, but I despise cleaning. I mean, I'll do the basic bed-making and vacuuming and putting things away, but I need someone to get into all the nooks and crannies. Someone to come in and mop up the dust bunnies and scrub the baseboards, and rub the fingerprints off our front windows. Someone to make my home presentable, even if it's just for the 2 hours between elementary school drop-off and preschool pick-up.
So, there's my twelve days of Christmas list. No partridge in a pear tree or calling birds (They'd just mess up my house and add more noise to the usual cacophony, anyway)–although I really wouldn't mind the five golden rings.
Now it's your turn–what's on your twelve days of Christmas wish list?